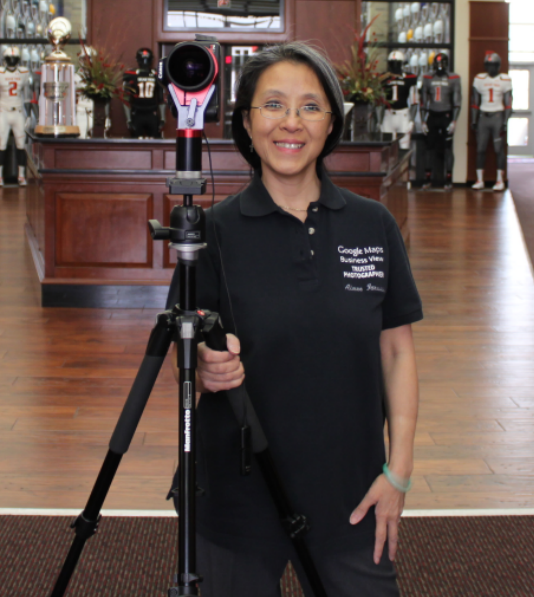 Aimee is a Google Street View | Trusted Photographer, trained and certified by Google to photograph virtual tour of business places inside in 360 panoramic view and place the tour on Google for the businesses.  
The virtual tour is seen on the Google Maps, on computer browser, Android phones, iPhones, tablets and iPads and even on a Blackberry with the link to the tour.  In addition, a thumbnail saying "See Inside" will be on the Google+ page for the business, on the Google+ Local page and on the classic Google Maps business listing page! 
Contact Aimee NOW for a free consultation on how you can benefit from this great program from Google!
If you are in business, you want to take advantage of this now before your competitors do! 
Contact Aimee NOW - click here!
Aimee @ BusinessPRnews.com
Street View | Trusted Photographer 
Portfolio: aimees360.com
Contact:
Aimee: 214-682-9287 (m)
David:  469-682-7261 (m)
Aimee Iarussi Photography is the Official City Partner for Let's Put Lewisville on the Map. Aimee is a Street View Trusted Photographer, trained and certified by Google, since March 2012. Aimee has been serving businesses in DFW as well as businesses in other cities and states with virtual tour photoshoots of the businesses and put them on Google Map for them.   Aimee is also a Google Trusted Verifier of for Google+ Local page for business.  Aimee provides the following services:
Virtual tour photoshoot and publish on Google Maps
Create Google+ Local page for businesses
Claim your Google+ Local page
Optimize your Google+ Local page
Verify your Google+ Local page